Jurassic World: Dominion Dominates Fandom Wikis - The Loop
Play Sound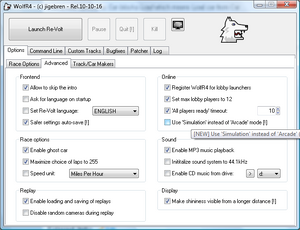 WolfR4
WolfR4 is a Re-Volt launcher tool made by Jigebren to support the Re-Volt community. This application currently has a public release, but is still under active development.
Although WolfR4 is more powerful than PhoenixR3 in some areas it only supports Patch 1207 of the game.
Getting it
You can request it for beta tests by contacting Jigebren via PM in Our Re-Volt Pub.
Or you can also download it from Jigebren's own website.
Features
Cars:
Random car option (custom cars are in? as another option)
Same car for all player option
Car/Car collision disable option
Up to 30 identical cars option
custom cars for AI disable option
Enabling Ghost car for time trial mode
Refresh Cars Info
Pause on car preview option
Allowing single car race
Refresh player's car
reset last used car info
Car limit fix (to unlimited)
Tracks:
Random car option (custom tracks are in? as another option)
Pick track outside Re-Volt
Reverse mode
Refresh custom tracks
All races mode for all track types option
Enabling Full Custom track support (sounds, graphics, stock models modification (+ position/orientation), skymaps etc...)
Refresh track info during program runtime
Track compressor
Track Hide/Show option
Game:
Editing name outside Re-Volt
Overtake MAX_LAPs to 255
Speed unit modification
Editing number of laps / cars
Activate/Inactivate pickups
Enabling MP3 (ensuring the quality as well)
Enabling CD music from driver
Replay: load and save (with disable random cameras option)
Removing imposed delay (from intro1)
Asking for language on startup?
Language changing
Enabling MAKEITGOOD / TVTIME mode
Alternate edit camera keys option
Display camera orientation and position option
Arguments Interface (Command line GUI) [ + resolution editing]
Level loading crash fixer
TuxAbug (timer problem fix) fix (with watersplash, GoGo bug and flip/reposition/flip bug fixes)
Hangs removing during level loading
CPU sleeping patch
Compatibility mode win98 setting option
Kill Revolt.exe or pause its process
Online
Host/IP modification
Register as a launcher for Rv house, Gamespy etc...
Max players per lobby became 12 instead of 8
All players ready timeout modification
Race can be restarted
Battle tag crash fix
Included patchers
512x512 textures
mipmap levels count
Aspect Ratio
See Also
External Links