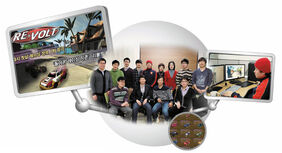 We Go Interactive Co.,Ltd is a Korean company that purchased all rights related to Re-Volt among other games in July 2010 from Throwback Entertainment (which had acquired Re-Volt in 2006).[1][2][3]
Re-Volt
WeGo released Re-Volt Classic to the iOS platform in October, which is basically a port of the Dreamcast version to iPhone and iPad. They worked with BigBit, the company of Nick Baynes. BigBit holds rights to only the iOS port, so it's not as involved in the other platform(s) ports.
The Android version was released in mid-April to the Korean T-Store and later to the Google Play Store as well. This version had several bugs, including a bug related to progression in the championship mode, as well as several graphics and sound bugs.
WeGo does not have very good reception. Further reasons are the prohibition of the unofficial OS X port (which was widely used in some communities), in-app purchases of both Android and iOS versions and rather poor English skills . A more recent faux pas is the GOG release which has been taken off the site by community request. The reason was the 1.2 beta patch featured in the version sold there which they didn't have the rights to sell.[4]
According to Roy Park from WeGo, it is also planned to continue with an enhanced PC and OS X version, XBOX Live Arcade and a PlayStation Network release in the long future.
The final goal of WeGo Interactive is to make a multi-platform experience for Re-Volt.
References