The Toyeca is one of many selectable stock cars available in Re-Volt.
Performance
The Toyeca is a Glow-powered car with a 4WD drivetrain, classified under the Pro class. Toyeca is considered by the majority of the Revolters as "the official standard car for online racing". Apparently, the car has a good balance between speed, acceleration, and handling, making this car one of the top choices for racing.
Racing Standard
The uprising popularity of the Toyeca being used for online racing was started up from a currently unknown source. The car's popularity is so immense over the online racing scene, that it has became the standard for most online races, cups, and other online activities such as Battle Tag. Most of the players online prefer to play as this car, instead of the wide selection of other cars that are available to be used. There are a few players who do not prefer the Toyeca as their choice of car, and so would choose another car, commonly the Cougar or the Humma and sometimes the AMW, and a select few others in online racing choose cars in a lower class, such as the Adeon, Zipper, and others. However, the Toyeca is not the best choice of car for online racing, as this also depends on the track that the host selects.
Additional Information
  This car is not present in any of the various Re-Volt demos.
  The player needs to obtain all of the hidden stars in the Platinum Cup tracks in Practice mode to unlock this car.
  The car's default data folder name is 'toyeca'.
  The Toyeca is a Glow type car in the Pro class with a 4WD drivetrain.
  Resembles a Porsche 959 or 961 Coupe.
Gallery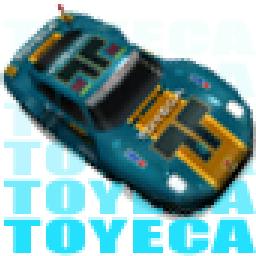 Community content is available under
CC-BY-SA
unless otherwise noted.