Jurassic World: Dominion Dominates Fandom Wikis - The Loop
Play Sound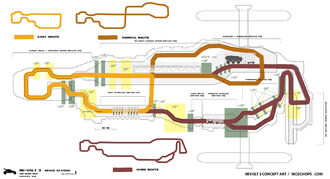 Space Station is a track concept created by Paul Phippen for one of the WeGo Interactive's successors of Re-Volt: Re-Volt 3.
History
At the Company's request, key scenes of a space station race track were painted by Paul Phippen, first released to the public in 2015 at his homepage and communities such as DeviantArt, Pinterest and ArtStation.[1] At the time no information about the artworks could be revealed.[2]
Due to the service termination of WeGo's Re-Volt franchise at June and July of 2017 and the extension of the company's inactivity, Paul felt free to reveal what the key scenes were for at the Re-Volt Live's Facebook group in April 20th, 2018.[3] At the post, Paul talked about the track concept and also shared seven key scenes, which four where previously shared, but this time with R/C cars in the scene, and two unprecedented pictures of the concept. The post also featured a cover design sketch of Re-Volt 3.
Ten days after, Paul released in his homepage the entire concept series of the track, featuring four pictures that weren't present in the Facebook post, which two of those were exclusive to this post. [4]
Below is a description made by Paul about the track: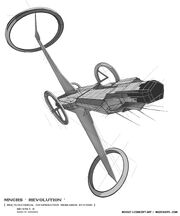 | | | |
| --- | --- | --- |
| " | I went away for a few weeks, and came back with a racetrack idea based on a Space Station, a kind of haunted Marie Celeste ship drifting through an unknown system with an absent crew, with occasional views to the void and planets outside – a cross between Kubricks 2001 craft, with large revolving cyclinders, Hal's unhelpful commentary, zero-gravity sections that cars have to launch into. Throw in some pseudo NASA/Rob Foss-like space interiors and it was good to go. | " |
The space station concept wasn't used for some unknown reason, as well as other level designs that were offered but not taken to the concept stage, including new car designs.
Published key scenes
Below are the published space station key scenes.
External Links
References