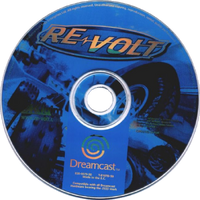 Re-Volt's soundtracks consist of 14 house, techno, and trance pieces that play as background music.
Music is stored on the game CD, thus, using Patch 1207 to play the game without the CD check disables the music. Play music without the CD in the drive is possible using RVGL, Re-Volt 1.2, WolfR4, Phoenix R3 or inmm.dll.
The format of the soundtrack is .mp3, and .DA in the Playstation version.
The Re-Volt soundtrack was made by the Re-Volt Music Department.
Track List
Below is a table containing data of the complete/original version of the tracks.
| | | | |
| --- | --- | --- | --- |
| Index | Redbook name | Title | Length |
| 0 | TRACK02 | Frontend | 5:31 |
| 1 | TRACK03 | Toys for the Boys | 5:17 |
| 2 | TRACK04 | Live Wires | 4:23 |
| 3 | TRACK05 | Candy Jumping | 4:42 |
| 4 | TRACK06 | Flipped | 3:43 |
| 5 | TRACK07 | Recharge | 4:21 |
| 6 | TRACK08 | Wheels of Steel | 3:31 |
| 7 | TRACK09 | Little Toy Carz | 5:12 |
| 8 | TRACK10 | Overdriver | 6:22 |
| 9 | TRACK11 | Out of Control | 3:44 |
| 10 | TRACK12 | West Volt | 3:21 |
| 11 | TRACK13 | Win Cup | 0:29 |
| 12 | TRACK14 | Lose Cup | 0:28 |
| 13 | TRACK15 | Credits | 2:04 |
TRACK01 on a CD with redbook audio is always the data track for the game.[1]
Redbook index numbers 11, 12, and 13 are not used in any levels, but for special occasions, such as winning or losing the Championship, or in Credits.
REDBOOK
Red Book refers to a set of professional specifications for audio CD's.[2]
The REDBOOK entry in .inf files of various Re-Volt levels refers to the soundtrack index numbers. There are two index numbers used by .inf files. These determines the songs to be played. Toys in the Hood 1 for example has Redbook index 4 9, which means, once the level is loaded, a song from 4 to 9 will start playing, and it will follow the index ordering until it reach 9, then, it will back to 4, and it will continue in an infinite loop.
In RVGL, the music files can be placed in a folder called 'redbook' (placed in the game's root directory), and then, they can be played without the need of the CD-ROM. Supported file types in RVGL are .ogg, .flac, .mp3 and uncompressed .wav.[3]
The PlayStation, PC, and Dreamcast versions of Re-Volt all have Redbook arrangements.
Below is a table with existent REDBOOKs.
| | |
| --- | --- |
| REDBOOK | Levels which is played |
| 0 0 | Frontend |
| 1 3 | Botanical Garden, Garden Battle, Museum 1, Museum Battle, Neighborhood Battle, Toys in the Hood 2, Toytanic 1, Toytanic 2 and Toy World 1 |
| 4 9 | Museum 2, Stunt Arena, SuperMarket 1, SuperMarket 2, Toys in the Hood 1 and Toy World 2 |
| 10 10 | Ghost Town 1 and Ghost Town 2 |
Supermarket Battle and Intro Sequence are the only levels that no song is played due to lacking REDBOOK entry.
Versions differences
PC version
In the PC version, the soundtrack features editing in the beginning and end of the tracks so they can link one to another. However, the transition is not smooth and it is very perceptible when the tracks switch.
Dreamcast version
The Dreamcast version is unique in the fact that its soundtrack lacks transitions; all of the music are separate entities and do not have links to other songs. This is the only that feature the complete/unedited version of the tracks.
Playstation version
In the Playstation version, songs of REDBOOKs 1 3 and 4 9 are put together into two big tracks, featuring seamless transition between them (which lacks in the PC version).
Nintendo 64 version
The soundtrack of Nintendo 64 version is the most peculiar. It contains 11 tracks, being part of them remixed versions of Frontend, Toys for the Boys, Candy Jumping, Win Cup, Lose Cup, and Credits. The other 5 tracks seem to be songs which were never heard before.
The Nintendo 64 soundtrack works differently from all other versions. Tracks are formed by a bank of instruments and sound effects located in the cartridge. During the game, the instruments are put together to form the song, starting with an intro, and then entering in an infinite loop mode. Then, tracks in this version do not have a specific length.
In the contrary of other versions, the soundtrack don't stop when the game is paused.
This version also do not have a specific track list, as tracks are randomly played during levels (except Frontend, Credits, Win Cup and Lose Cup).
Demos
The PC demos soundtrack comes inside the root directory of the game. It contains Frontend, and also a track which is exclusively present in demos, called nhood1.mp3 (possibly because it plays at Toys in the Hood 1). This track sounds like a beta/extended version of Wheels of Steel.
The rolling demo contains Toys for the Boys.
Arcade version
The Arcade version have the same PC soundtrack, with one track played for each available level in the game. It features one exclusive song however, which is played in Toytanic 1. It is called "ship.mp3", and was made by Kurt Arnlund.
Below is a table with songs and their respective levels.
DEV version
The Developer Version features all the soundtrack in the root directory, which is the same of the Dreamcast version. However, it features nhood1.mp3 and an extended version of Little Toy Carz with length of 9:44. It doesn't have win and lose cup songs, nor Credits.
Below is a table with songs and their respective levels.
The other tracks included are unused, and unlisted levels do not have music.
Trivia
Toys for the Boys and West Volt were featured in the Rapide Publishing music CD N64 Anthems.
Frontend is called "JamJar" in XBOX.
The Credits song is also known as "Go West", and was called like that by fans for a long time. The origin of this name is, however, unknown.
There's a special track that was used in promotional videos of Re-Volt.[4] Its name is unknown, and is not sure if it was also made by the music department.
Candy Jumping drums resembles a lot the intro of Demon Boyz's Dett[5]. This could imply that the team possibly had other borrowed samples for their soundtrack.
Xbox version would supposedly included few original music included according to some footage available on the internet.[6] However, these videos aren't so plausible since the alpha version that can be downloaded also plays ripped CD music if it's founded in the Xbox's hard disk drive.
References
Related articles
Community content is available under
CC-BY-SA
unless otherwise noted.