Introduction
Re-Volt is a radio control car racing video game created by Acclaim Studios London (formerly Probe Software) and firstly released by Acclaim Entertainment in July 1999. Although Acclaim went bankrupt in 2004, the game has continued to be supported by fans over the years.
Re-Volt Wiki is a collaborative encyclopedia which has been online since 2006. Our aim is to document and archive everything about this classic racing game. The wiki format allows anyone to create or edit any article, so we can all work together to create a comprehensive Re-Volt database.
Have a nice stay! Please visit the Wiki Activity page to stay tuned to the most recent changes and activity in the wiki.
Showcase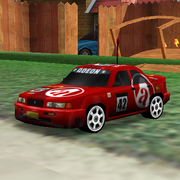 Adeon is one of many selectable standard RC cars available in Re-Volt. It is a Glow-fueled car with a 4WD drivetrain, classified under the Semi-Pro rating. The car is known for its exceptional acceleration stat in its rating, standing out from its competitors. Clocking in at 2.97 m/s², Adeon narrowly surpasses Zipper and RG1 by a small amount. Its high acceleration can come in handy under many situations such as climbing inclines and ramps.
Its handling aspects are also quite superb. Turning radius is excellent, with Adeon not requiring to slow down when taking corners, allowing to undertake such very quickly.
Where to start
How to help out
Somethings you can do to help are:
Regularly check the recent edits, and check if everything is ok with them (improve content, add categories, revert vandalism and spam, etc.). Check also the new images and videos.
Welcome new members and congratulate them for their good job.
Mark small articles as stubs.
Fix grammar mistakes and help to improve writing and composition of articles if you feel is needed.
Expand incomplete pages, or create from scratch if some page doesn't exist yet. For that, just enter the page title in the box below:
Other Fan Projects and Websites
Screenshot of the Moment
One of the several screenshots shared by Quang Nguyen, programmer of the cancelled Game Boy Color port of Re-Volt.
In the News
March 10th, 2019
The Pemto Pack Project was finally concluded, reaching the number of 99 skins for Kiwi's and r6te's remodel of Mc RC based on Pemto. Also, almost one year has been passed since the release of the car. 45 people participated in this project, which started at March 18th 2018. The skins can be downloaded here.
March 06th, 2019
Javildesign posted pictures in his website of an work in progress level for Re-Volt, which is looking very nice. Javildesign is an CG artist which was known in the community for creating The bunker in 2014. You can see more of his work by visiting http://javildesign.com/. Links for the screenshots: [1] [2] [3] [4] (some were borrowed from Re-Volt XTG)
Febuary 17th, 2019
At late January 2019, MightyCucumber has found and contacted Quang Nguyen, which was the programmer of the Re-Volt Game Boy Color port. He answred in the beginning of the next month, sharing worthful information about the development history and a pack of screenshots of the port. Those can be found in the Re-Volt (GBC) article.
Also, an event celebrating the 20th anniversary of Re-Volt is about to begin: the RVGL Ladder, a competition where participants should keep their score average as high as they can. The best drivers will compete real prizes! More information available at the official website.
January 26th, 2019
The community is discussing ideas on how to celebrate the Re-Volt 20th anniversary, which will happen on July 31st. You can check the forum discussion topic by going here.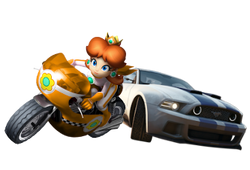 Community content is available under
CC-BY-SA
unless otherwise noted.