Re-Volt refers to the version of the game which was released on the Personal Computer.
Gameplay
This version has very good graphics, sound effects, and overall performance. It is the most popular version of the game.
It features 34 cars, 13 tracks and a Track Editor.
Three patches are known to be released: Patch 0918, Patch 1207 and Gateway Patch.
Customization
The game allows players to add their own tracks and cars. Its files are in normal formats making it easy to exchange or customize sounds and graphics.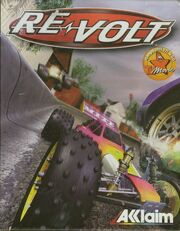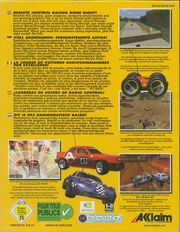 PC Versions
Here's a small list of known Re-Volt.exe versions. [1]
canned [2]
v0.01cgw
v0.01
dev
v0.01acclaim
v0.01gamespot
v1.00 'SecuROM'
v1.00 'EUR'
v1.00 'EUR XP'
v1.00 'USA'
v1.00 'GateWay'
v1.00 'EUR V2'
v1.00 'ASIA'
v1.10 '0916'
v1.10 '1207'
dev2[3]
Multi-Player
This version can be played online with the following methods.
References
↑ Phoenix R3.nfo
↑

(Email from Simon Harrison: original level was set in a tower block in london ) + (a folder called canned in Re-Volt source code)

↑

Email from Simon Harrison: the dev version [...] will be a snapshot of the development folder at a particular time. [...]late version around the time we were doing the dreamcast version.