Re-Volt (Arcade) refers to the version of Re-Volt which was released on an actual arcade machine by Tsunami Visual Technologies on September 24, 2004.
This 'port' of the game featured a few changes such as gameplay and graphics. It ran on Microsoft Windows 98 and came in two versions.  The TsuMo Standard Non-Motion Sit Down Re-Volt and the delux model pictured on the right.
The Re-Volt Standard Computer System utilized commercially available computer parts.  Known hardware includes
ASUS P4S800-MX SE Motherboard
GIGABYTE GO-C5200B 52X IDE CD-ROM
MSI MX4000-T64R Video Card
Standard IDE Hard Drive
Socket 478 Intel Processor
256MB DDR Memory
ATX Power Supply
Custom Case with Sock Mounts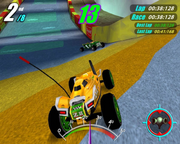 Hardware can be easily changed with just a driver update and if needed the entire operating system can be reloaded with a CD-ROM that was included with each system.  However once the system is reloaded a custom code must be given to the original manufacturer and a subsequent unlock code must be entered into the Arcade System before it will be usable.
Similar to the Dreamcast version's time trial mode and many other arcade racers, there is a global timer.
This version had two additional tracks. Those are Gabor's Venice and a new track created by Kurt Arnlund, an ex-Tsunami employee.
| | | |
| --- | --- | --- |
| " | I created a junk yard circle track using the crane and a car model that I made using pictures of a coworkers car.  I also created some original music that I was using in the junk yard track. | " |
Tracks and cars available
Some tracks has been modified by Tsunami. Cars have 5 hue-changed skins available besides the default skin. In total, there are 11 tracks and 23 cars.
External Links