Re-Volt is the multi-platform game that this Wiki is all about. It was created by Probe Entertainment (Acclaim Studios London) with American assistance from Iguana Entertainment (Acclaim Studios Austin). The two companies have since gone defunct. In July 2010, Korean publisher, "We Go Interactive Co., Ltd," located in Seoul, acquired all copyrights from Throwback Entertainment.
Besides being a simulation/racing game, the twenty-eight remote control cars defend themselves with ten unique weapons on the fourteen available tracks. The game's concept was created by Paul Phippen and Simon Harrison, and the project was lead and directed by Nick Baynes.
Download
The GOG version has been taken off the site as the 1.2 patch was used by WeGo without permission.
Six demos of the game also exist. You can find the links in the Demos article.
Platform Overview
Re-Volt is multi-platform, and has been released on five different consoles. Each version differs slightly from the other in terms of graphics, sound, and additional features.
Dates of Release
Date
System
August 16, 1999
PlayStation - PS1 CD-ROM[1]
December 18, 1999
Dreamcast - GD-ROM
August 19, 1999
Nintendo 64 - N64 Cartridge[2]
August 19, 1999
Personal Computer - CD-ROM
Cancelled in 2002
Xbox (Never officially released) - Xbox Live Demo CD-ROM
September 24, 2004
Arcade Machine - (Windows)
October 4, 2012

iOS

(iPhone, iPod touch, iPad) - Downloadable app from iTunes
February 25, 2013

SmartTV

- LG SmartTV

April 16, 2013

Android

- Playstore and Korean T-Store
PlayStation
The PS1 version has poor graphics and textures compared to the Dreamcast, N64 and PC versions. It has custom Lego tracks and an extra pack of cars which can be loaded during gameplay. It also has a special Frontend with modified car-selection menu. Other than that, this version lacks some elements seen in other versions. For more information on this Re-Volt version, see Re-Volt (PS1).
Nintendo 64
This version has better graphics, better car effects, and better handling than the PS1. It has remixed music (mostly due to the limitations of storing PCM audio on a limited space cartridge), a version specific secret car, and another free pack of Lego tracks. Similar to many N64 games, sounds are of low quality. For more information on this Re-Volt version, see Re-Volt (N64).
Personal Computer
This version is the most popular and is more or less the major multiplayer online game version of them all. It has better graphics, better sounds and new models. Also, it has the multi-frame ability and is highly customizable. For more information on this Re-Volt version, see Re-Volt (PC).
Dreamcast
This the best console version. It has graphics that compare to the PC version running at 640x480 with average settings, a load of new cars, and a whole new track called Rooftops. This version also uses carinfo.txt for loading cars on frontend (like the PC demo version). For more information on this Re-Volt version, see Re-Volt (DC).
Xbox
The full version was never officially released, so little is known about it. Graphics were apparently of good quality, as well as sound, but it was limited in some forms of playability. It was released only to "Closed Beta Testers" of Xbox Live. For more information on this Re-Volt version, see Re-Volt Live (Xbox).
Arcade Machine
The Arcade machine was the last attempt at making the game popular, it was released to a few Arcades and had some interesting features not seen in any other version. Still little is known about it... For more information on this machine see Re-Volt (Arcade).
iOS
The game is known as "Re-Volt Classic". This is the first version for mobile devices. It's based on the Dreamcast version of the game, so it includes cars and Rooftops which aren't seen on PC. Although it has some differences from the other versions, like controls for touch screen devices. it has an easy mode and a basic tutorial. Some of the graphics were improved, for example skyboxes. This version of the game doesn't include Track Editor.
Android
This version closely resembles the iOS version. As an alternative for the iOS Game Center, it features Facebook integration. It's available in the Play Store .
Game Facts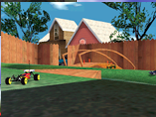 You can check your ranking by visiting the Progress Table.
Re-Volt is customizable; you can add custom tracks and cars. It has an internal Lego Track Editor for creating Lego tracks [PC, Dreamcast, and PS1, but the N64 can't accept external files]
Multi-Player
Re-Volt has a rather large MMOG following. There have been many ways invented on how to play it, but most of them pertain to the PC version.
PC
The PC is the most popular machine for organized online play. RVHouse, GameSpy Arcade, Xfire, and Hamachi are but a few of the methods used, with RVHouse being the most popular. There are also communities of gamers; feel free to check out our List of Board Statistics for more information.
N64
There are currently no known organized races for the N64, but it is possible to play the game using the PJ64K emulator.
Xbox
During the closed beta testing, various online 'Live' races were held. Since online Xbox has been closed, you cannot play this version online.
Legacy
Though Acclaim Entertainment is now defunct, some fans support the game with fanmade vehicles and maps, as well as custom online servers.
References
External Links