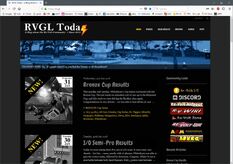 RVGL Today (https://rv.gl) was a blog about Re-Volt created by Kiwi at January, 2018. The blog aim was to provide regular updates on anything that was going on around the Re-Volt communities, as new videos, custom content, tournament results, or any other event of the sort.[1] The name was an obvious reference to the fan patch RVGL.
Around February, the site was hacked a few times by unknown hackers. The message on the front page was: "Hacked by I/O and fruit haterz". The site was shut down after that by Kiwi.[2] At the moment, the URL https://rv.gl is a small link collection of Re-Volt related sites.
Subdomains of RVGL Today's URL rv.gl will be used for hosting, instead of unhandy IP-adresses (u.rv.gl, floxit.rv.gl, and so on).
References
↑ https://re-volt.io/blog/rvgl-today (blog post was removed after the site's shutdown)