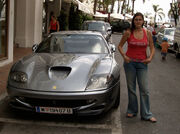 Orca_Spain or Aixa is a female racer born on 1986 who lives in Spain. Since she is one of the oldest Revolters, she has had a rather interesting impact on the community. She has a wealth of historical knowledge related to Re-Volt.
Orca_Spain got her first demo version of Re-Volt in the Christmas of 1999 and has been playing ever since. The first car she played with was RC Bandit. After playing the game, she mentioned in an interview at Y'ARP that Toyeca was her favorite because of the way it handled while racing.[1]
She appeared on the online scene in the MSN Gaming Zone, GameSpy Arcade, and occasionally in RVHouse. Since this time, she has been a member of RRR Racing Forum and made appearances on a few other sites.
Her current goal in life is learning to be a zoologist and finishing college, hence she hasn't been on the scene as much as previous years.
References
See Also
Community content is available under
CC-BY-SA
unless otherwise noted.