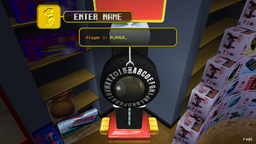 The Name Wheel (labeled as Enter Name) is the Re-Volt menu where the players' names are typed. It's also the place where most of the cheat codes are activated.
It is a full-size car tire with letters and symbols written on its side. The characters can be scrolled with the left and right buttons in the keyboard/controller and selected with enter or another selection button depending on the controller of the console/system. The characters includes Latin script letters from A to Z, space (◻), exclamation mark, backspace (DEL), and finally END used to finish the typing and jump to the car selection screen.
In the PC version, the words can be typed directly in the keyboard. Numbers are also allowed.