Luigi Raceway

Author:
Gaming4JC
Folder Name:
luigiraceway
Soundtrack:
Toys for the Boyz.mp3
Length:
283m
Difficulty:
Medium
Mirrorable?
Yes
Reversable?
Yes
Luigi Raceway is an Extreme track created by Gaming4JC made entirely Blender. It was created from Janurary 2010 until March 2010 and is the first track ever exported from Blender using GoofosASEExport for UT.
The track features a custom skymap via a built in cube which uses default bitmaps for it's creation, along with several other custom elements.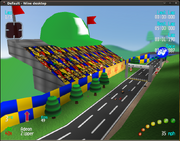 The track used some other tools during it's creation including GIMP, Paint.NET, Rvtmod7, RVMinis5, and FastStone Image Resizer.
Hazards/Obstacles
The track is slick and has some bumps, if your not careful you could slip out in the tunnel or get hit by an opponents weapon.
There are 2 Global Pulse locations. The first one is on the guard rail around the first corner. The second is the corner just outside the tunnel. You will have to use turbo and/or an explosion to reach them.
Tips
Cut corners as much as possible; be careful not to do it to much or you'll get repositioned.
Use global pulse if you need them.
External Links
Community content is available under
CC-BY-SA
unless otherwise noted.