JungleVolt created by Urnemanden belongs to the Extreme category as the track was the first track Urnemanden created using 3ds max. It was released in late October and is assumed to be easy.
Description
The original description from the supplied readme:
JungleVolt, a.k.a. Guigaga/Guigonzo is my first creation made in 3ds max with a huge help from Zach. The track has a special theme as a raceway in the middle of nowhere, in some jungle in Africa. A small group of RC Tourists was lost nearby with no food and no watre. Originally They came here to find the Secret Temple of Re-Volt, but they suddenly got off the road and found the old Jungleracer Road instead.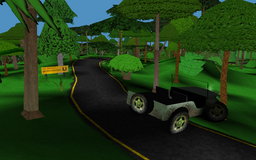 Flow & Racing Line
A quite stable track with only a few distortions if you keep your car on the racing line. The road is surrounded by trees and plants and the grass surface is slippery, but you may find a few alternative routes out there.
The track contains a huge jump and is therefore not as suitable for rookie cars like Phat Slug compared to Toyeca or other cars in the Pro class. Please notice that triggers doesn't come within this track.
Graphics & Environment
As stated in the readme JungleVolt is of a very surreal jungle-like theme. The trees, plants and the cartoon-like textures could be a good proof to that. The track takes place inside the deep jungle of Guigaga where different kinds of animals lives. There is loads of details to watch while driving the 282 meters long track.
Most textures is created or modified by the author using Paint.NET. A more detailed explanation of each texture and it's function is found inside the readme.
Updates & Bugs
Since it's release has JungleVolt been updated twice. An important change towards some of the accessories and track zones has been made to prevent the red X from showing up. It is recommended that you download the latest version, since the new changes might have decisive effect towards online races for example.
Download
The latest release is availabe at Urnemanden.com & Nawakiwi.com.
Please Notice that the updating hasn't proceeded yet at Re-Volt Track Zones!
Other Releases
Since the release of JungleVolt, there has been various updates. The latest version is version 1.2 and is reachable at Urnemanden.com together with a new 512 version including Full Custom elements. Both were released at January 11th 2009.
Community content is available under
CC-BY-SA
unless otherwise noted.