Story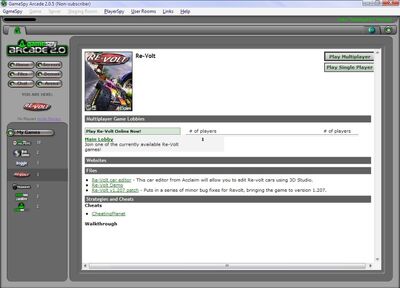 Game Spy Arcade was the second largest online gaming lobby to allow online play of Re-Volt. It shutdown May 31, 2014 and had been largely replaced by RVHouse by 2008.[1] Prior to Game Spy Arcade, many users had been using MSN Gaming Zone until it's fall in 2004. RVHouse is the modern open-source gaming lobby replacement for both defunct proprietary programs.
Re-Volt Room
The Re-Volt Room in GameSpy Arcade would appear after having installed the game, or by adding it manually via a setting in Game Spy Arcade.
Clicking on the room would allow you to download a few files from FilePlanet concering the game, as well as join the multiplayer lobby.
Phoenix R3
In order to revive this once popular method of playing the game, Phoenix R3 had the option to play Full Custom tracks in multiplayer through GameSpy Arcade.
The re-launch trick
Sometimes when the host launched the game, users that were using misconfigured firewall settings would fail to connect to the waiting room of Re-volt. In this case the host could use use the keys 'Control + Escape' to return to the GameSpy room without exiting the game. The host could then press the 'Launch' button again and the players that were unable to connect the first time were given a second chance.
Chat features
Type the first letter of a players nickname that is in the lobby and press Tab.
Type /me and then your message. All the users will heard a sound.
Press the UP and DOWN arrow keys to scroll the last words you typed in chat.
Type /gscmd usr_profile to get your GSA ID
Port Forwarding
Game Spy Arcade required the following ports to be forwarded in your router or firewall in order to run properly, in addition to the DirectPlay ports required by Re-Volt.
6667 (IRC)
3783 (Voice Chat Port)
27900 (Master Server UDP Heartbeat)
28900 (Master Server List Request)
29900 (GP Connection Manager)
29901 (GP Search Manager)
13139 (Custom UDP Pings)
6515 (Dplay UDP)
6500 (Query Port)
See Also
References
External Links
Community content is available under
CC-BY-SA
unless otherwise noted.