A Fxpage is a texture page that contains textures of models, particles, head-up display (hud), among other important textures used by the game. Some example are the pickups icons, the speedometer and the directional arrows.
There are three Fxpage textures located in the gfx folder of the game, named Fxpage1, 2 and 3. Fxpages are commonly edited for mods, being them used globaly or just for a single track.
Trivia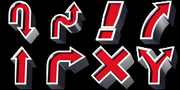 The design of mobile versions also differs from the other Re-Volt releases. It's very similar to the Dreamcast ones.
Arrows are displayed bigger in demos.
The Arcade version uses alternative speedometer and inventory designs. The speedometer is more like that of a real car, and the inventory is round and cyan.
Community content is available under
CC-BY-SA
unless otherwise noted.