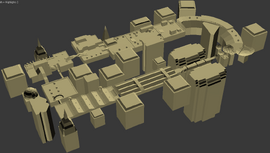 The rooftops was the first level theme tried by the game developers. A track with this theme was made back in 1997 for one of the first builds of Re-Volt, and was the first ever made. It had the name Fiddlers on the Roof[1] (probably a reference for the 1964 musical Fiddler on the Roof), but despite this, inside the game its name was Rooftops. The data folder name of this track was ROOF.[2]
The track was scrapped due to the developers having found that it could bring a poor racing experience for the players, and also due to the restricted hardware resources available to that time. Later this track was adapted and completely reformulated to fit with the hardware limitation, and have become the famous Dreamcast and Mobile exclusive track, Rooftops.[3]
Appearance
The original appearance was completely different from the today's Rooftops. Race happens during daylight, and the course layout features different sections, as the satellite dishes jumps, among other unique building designs. Some of the present buildings are quite the same of the current version thought. Textures differs a lot between the two versions, as Fiddlers on the Roof's features different coloring, and quality too, being lower than the today's standards.[4] Fiddlers on the Roof also used dense fog to hide missing parts/polygons of the level.[5]
The original idea of the course layout was much more complex, and would incorporate all the storyboard scenes (which can be seen at The Re-Volt 1999 Scrapbook Deluxe and the game's Gallery), but most of the ideas were cutted off to fit with the hardware limitations of that time. [6]
Found mesh files and playable version
The complete mesh file of the track was found in the leaked source code. There was multiple versions of the mesh, which most of them had corrupted polygons.[7] The textures of the track are still missing.
The track version of the source code was very incomplete, as the modeling was the only step done, and was not even mapped. Marv took care of the track polishing, mapping it and adding new textures, and R6te helped with most of the MAKEITGOOD part.[8] The playable/polished version of the track was released at Re-Volt Zone at September 01, 2012, with some new elements, as the birds, skybox, and background skyscrapers for instance.
MAKEITGOOD
Track Zones, Pos Nodes and AI Nodes of the track can be seen in Rooftops by entering in with the Edit Mode activated. They're located far away, in the direction of the moon, to the right side. AI Nodes are the only from the three that is incomplete, having only four nodes there.
Gallery
Below are the screenshots and concept arts shared by Paul Phippen to Re-Volt Wiki and originally posted in the article The Re-Volt 1999 Scrapbook Deluxe (except by the 15th image), and also the two exclusive images from the Dreamcast port of Re-Volt.
Screenshots
Concept arts
Dreamcast exclusive images
External Links
References