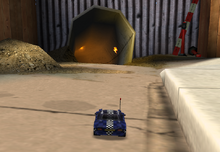 The Clone Pick Up is a weapon that, when fired, drops a fake Pick Up that, when touched, explodes in a manner identical to a bomb.
Tips on dropping clones
Try dropping clones in places where there are a number of normal Pick Ups, right in front of/behind a real Pick Up.
Drop clones in narrow spaces or places that the opponent can't avoid catching it.
Drop it when an opponent is right behind you since they will travel straight into the Pick Up and explode.
Memorize the routes that CPU cars drive along, then drop clones on it.
Drop Pick Ups in curves, preferably in front of places that the opponent can get stuck. For instance, in the right of the pipe's entrance of Toys in the Hood 1.
If you are far enough ahead to drop a clone without being seen, then drop one in the same place of a real pick-up. You will gain the new pick-up and the cars behind you likely won't figure it out until it's too late, especially in a hectic race.
Simply dropping a clone along the racing line in a place that others can't see until they hit it can prove very effective.
Tips on avoiding clones
Try to memorize the locations of real Pick Ups. Clones will usually be slightly offset from the real deal; if it looks off-center, or otherwise does not belong there, it's a clone.
Avoid Pick Ups that suddenly show up behind an opponent. It could be a clone.
Keep some distance behind opponents. If you stay too close, they might drop a clone directly on top of you.
If you already have a weapon, try to avoid pickups.
Trivia
In Re-Volt 2 and

Re-Volt 2: Multiplayer

, the Clone Pick Up has the form of a bomb.
In

Dev0

, Clone Pick Ups have a red halo that lights up the floor, and a second SFX sound (which is unknown) is played together with the explosion sound.