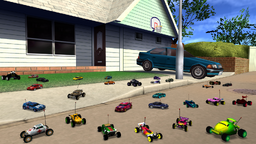 The Standard Cars consist in the first 28 R/C cars in the car selection screen that form a major part of Re-Volt gameplay. Respectively, the standard type refers to every selectable car present in the Windows and N64 releases of 1999, separated from other cars that were selectable/present only in the PS1 and DC versions released in the same year (mostly known as Dreamcast Cars or DC Cars).
This group of cars is constantly called as "stock cars", a name used as reference for content creation, car selection in online sessions, etc. The use of the term "stock" comes from an unknown source, but possibly emerged from the community initial modding scene (1999/2000), when the PC (Windows) release was the mainstream version. "Stock" may be related to "store", as the cars were shipped with Re-Volt and included in the game's directory. The term was possibly made to separate these cars from the ones that were "custom" (modified, not originally included in the game or not official).[citation needed]
List of cars
Below is the list of standard cars, with their respective class, rating, unlock methods and performance data.
A complete table with all the known cars can be found at the page List of Re-Volt cars.
Versions
Practically every version contain a standard car. The full PlayStation, Nintendo 64, Windows, Dreamcast, iOS, SmartTV and Android versions contain all of them. Even the canceled Xbox port would contain them.
PC demos have all the rookies, even though only two of them are selectable (four in the Android demo). The primordial builds Dev0 and the Developer Version have Loaded Chique replacing NY 54.
The arcade port do not have the cars Harvester, Mouse, R6 Turbo, Bertha Ballistics, Rotor and Panga.
Re-Volt 2 and Re-Volt 2: Multiplayer do not have the cars Adeon and AMW. It also do not have NY 54 and Humma, but these two were included as alternative skins for the cars Splat and WeGo Max (alias JG-7), being the WeGo Max skin more like a Humma based skin, far different from the original. R6 Turbo (renamed to Ray) do not have its original skin in this version.
See Also
Subcategories and Pages
Trending pages
All items (28)