Jurassic World: Dominion Dominates Fandom Wikis - The Loop
Play Sound
" Nubia specializes in armed robbery and contract killings. More recently, she has also dabbled with computer crime and fraud. No one has crossed her and lived to tell the tale. A meaner bitch you'd be hard pressed to find "
—Forsaken's bike selection menu.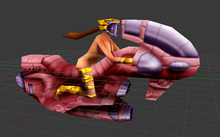 Bird is the name of a folder in Dev version, which contains a converted model of Nubia: a character/bike from the game Forsaken. Unlike the vehicle Bike, it has a BMP file accompanying the model, named as Nubia.BMP.
The reasons of why it is present in Dev version are currently unknown, but both games are related somehow, since Re-Volt and Forsaken were designed by the same Acclaim Studio: Probe Entertainment.
Appearance
The PRM's appearance do not differ from Forsaken in any aspects, with the exception that the default bitmap features a nude version of Nubia. This texture can be found in Forsaken's data folder with the name of NNGRID8BT.bmp. Unlike Dev, Forsaken uses a clothed texture as default bitmap, which is named as NGRID8BT.bmp. As well as Bike, Bird have a missing Parameters.txt file.
Frontend Easter Eggs
Beside the track selection screen, there's a box containing several CD cases of Forsaken. Judging by that, the Developers were really wanting to include a piece of Forsaken in Re-Volt.
Fan-Made Parameters and Skins
Dev and Demo Car Pack includes a parameters.txt file and custom skins made by unmentioned members of Re-Volt Live. It still doesn't include the default skin used in Forsaken.
Gallery
External Links
See Also