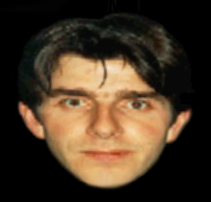 Bargarama is a cheat code functional only during a race. This code is known for replacing the static reflection bitmap (envstill.bmp) by the portrait of Robert 'Barg' O'Farrell.[1] It replaces the wheels of cars as well (technically by flat squares mapped with Barg's face). This code was made by Re-Volt developers as a form of gratitude for his work.[2]
Just like Gimmecredits and Joker, the player needs to type the code during a race in order to activate it (instead of using the Name Wheel).
Facts
When the game's window is minimized and then restored, the face is replaced by the bitmap of the fonts (Font.bmp).
When the level is left, the reflection bitmap is restored, however, the wheels' models retain the appearance of a flat square, but this time with the original envstill bitmap.
The face is visible once per level. In order to see the face another time, the player needs to restart the game and retype the code.
The face's bitmap is somehow coded into the font.bmp file. Some people were even able to rip it off the file, for example, the Re-Volt (Discord Server) staff who transformed it into a custom emoji.
The code doesn't work in RVGL since the patch replaces the original font.bmp by a new one. It plays Honkgood.wav, but does nothing else.
The face can also be seen in AI Nodes edit mode by typing the numpad numbers 1, 2 and 3.[3]
Discovery
The code was first discovered by Jigebren. It was published in the forum Our Re-Volt Pub on February 3, 2010, at 10:42 PM. [4]
Gallery
References
See Also
Community content is available under
CC-BY-SA
unless otherwise noted.