3ds max (originally called 3D Studio Max) is a licensed 3D editing program by Autodesk Inc. It is an industry standard, full-featured program, meant to do anything the user is capable of. Key features include model creation and manipulation, material editing, 3D animation, scene rendering, importing from and exporting to intermediate formats, and expandable functionality with developer-created plugins and a scripting system (MAXscript).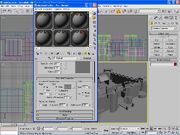 Re-Volt Content Creation
Various content can be made for Re-Volt in 3ds max, such as cars, scenery, and whole tracks, and exported to a format readable by Re-Volt via a 3rd party plugin. Unfortunately, this plugin only works with 3D Studio Max versions 2.5 and 3, which is obsolete and unsupported by Autodesk.
A workaround for any version of 3ds max is to create your model, then export it to an intermediate format and then import it into a tool (such as any ASE importer found in rvtmod7) or another 3D editor capable of exporting to a format usable by Re-Volt (such as ZModeler).
Caveats
3ds max is an incredibly complex program and will confuse anyone not familiar with it, as it is meant for doing much more than just creating models for Re-Volt. Additionally, a stand-alone license for 3ds max costs $3,495.00 USD[1], making it an impractical choice for any hobbyist video game modder. However, discounts exist for students who are studying for a career in 3D design.
it's possible to export 3d files (*.3ds) from 3Ds max (all versions) and import them in Zmodeler to the export it as a *.prm file playable in Re-Volt. The only thing you need to do is work in the correct scale, start the modelling of your vehicle form a box and reset the X form. The 3ds format allows you to export the UVW Mapping too, so you don't need to do it in Zmodeler. However, it's too bad that Zmodeler isn't able to apply surface properties directly.
References
See Also
External Links